sun records

click pictures to enlarge
please note:

fakes and reprints of elvis ´sun records are numerious.

if you like to buy one via the internet, please take care of the
following advices:
officially reprints are signed on the label or in the trail off wax as such (production year etc.)
originally sun records were only printed in black vinyl
there were never picture sleeves available
there were never white label promos
there were never any elvis ep´s originally released on the sun
label
most of the original sun 45´s (probably not all) are easy to identify at the 3 push marks on the label.
any sun 45 or 78 with 1973 stamped in the trail off wax is a reprint
sun "push marks"???

"push marks", no doubt, developed their own brand of notoriety that
their presence on any of the first 4 (!!) sun issued elvis 45 rpm
records were an almost indisputable sign of genuineness.
elvis´ last sun single (sun 223) carries no push marks!! at this time a
newer machine was used for pressing.


for more information visit www.vynilphreak.com


07/1954
that´s all right /
blue moon of kentucky

09/1954
good rockin ´tonight /
i don´t care if the sun don´t shine

sun 210 / usa 78 rpm schellack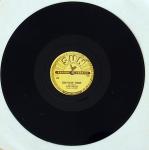 01/1955
milkcow blues boogie /
you´re a heartbreaker

sun 215 / uk reprint 2000


04/1955
baby let´s play house /
i´m left, you´re right, she´s gone

sun 217 / usa


08/1955
mystery train /
i forgot to remember to forget

sun223 / usa 78 rpm schellack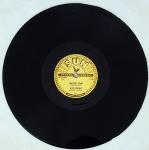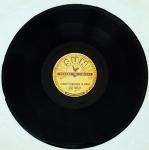 2000
tomorrow night (extended play)

sun101-6 / uk



2015
elvis 80
that´s all right /
blue moon of kentucky (alt. take)

special edition celebrating elvis ´ 80th birthday in january 2015.

this single was only available with the "rolling stone" magazine.

side 2 contains an alternate take of "blue moon of kentucky".
sun 209 / austria / germany
1977
the sun years (lp)

sun-1001 / usa 1977



2004
elvis at sun (lp)