1976 - 1986

click pictures to enlarge


1976
from elvis presley boulevard,
memphis, tennessee

elvis´s next to last "new" album release during his lifetime.

all tracks recorded at the famous jungle room at graceland in
february 1976. first pressings of this album have the "recorded live"
line under the title on the cover. in this case "recorded live" meant
live in the studio.
apl1-1506 germany (reissue early 1980´s)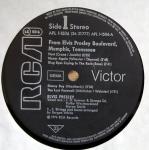 pl-89266 germany (reissue 1980´s)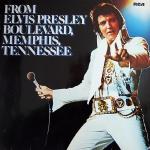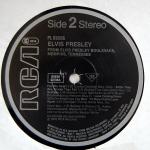 us pop #41

us country #01

united kingdom #29

canada #50

sweden #34

1976
elvis in hollywood

originally released in western europe as "ppl1-8081" pictured here is
the very rare german "club edition" (65753). the album contains 20
hits from his movies - from "jailhouse rock " trough "charro"


1977
welcome to my world

very nice compilation, but all tracks were previously released at the
time. the two exceptions are "for the good times" and "i can´t stop
loving you" which were both taken from the the unreleased afternoon
show at madison square garden recorded back in 1972.


pl-12274 / italy





pl-12274 / uk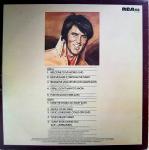 us pop #44

us country #04

united kingdom #07

canada #26

australia #58

1977
elvis in demand
elvis in demand though, was quite a unique album for its time. it
came about when rca uk invited british fans of the official fan club
to select 16 songs from elvis's extensive recorded repertoire to
represent studio work, hollywood film soundtracks and live shows.
most songs picked were an assortment of singles, b-sides, album
tracks and some obscure movie songs. the idea was to have on one
album, as many songs that were not available at that time. when
news of the project first appeared in elvis monthly, to celebrate the
21st birthday of the fan club, it was suggested that this would be a
good opportunity to fill in a few gaps for songs that were not
currently available in the uk.
united kingdom #12

australia #89


1977
moody blue

elvis ´finale album release during his livetime. producer felton jarvis
pieces together this album from cuts from the 1976 graceland
sessions and songs recorded on the spring tour in 1977, having to add
the previously released "let me be there" to make up a minimum
10track selection. "let me be there" was lifted from the memphis
show in 1974. see for the "recorded live on stage in memphis" album
(cpl1-0606) in the "1967-1975" long play section.
the first 4 pics are from a still sealed copy . the shrink wrap still
carries the 2 stickers announcing the blue vinyl and the hits "moody
blue" & "way down"
66602-4 / germany (club edition)
nl-90252 / germany (reissue 1990´s)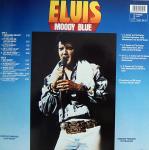 us pop #03

us cashbox #03

us country #01

united kingdom #03

canada #02

australia #03

austria #20

germany #19

netherlands #03

norway #03

new zealand #01

sweden #46

1977
elvis in concert (2lp set)

soundtrack from the cbs tv special.

recorded during the last tour, june 1977.

pl-22587 / netherlands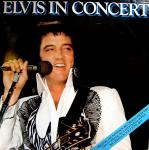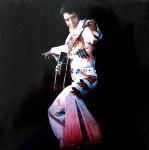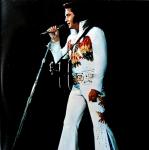 pl-82587 / germany (reissue 1990´s)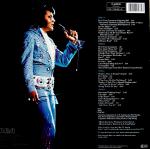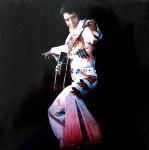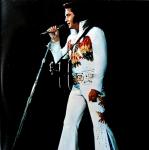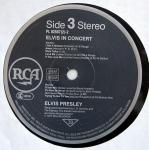 us pop #05

us cashbox #03

us country #01

united kingdom #13

canada #04

australia #17

1977
record covers (book with lp)
beautiful release from germany. the book pictures more then 75
record covers from germany. (some examples pictured below). this
unique set includes also the biography which was first used for the
original pressing of the "elvis forever" album in 1974. the record
included in this set is the "portrait in music album" (srs-558),first
released in 1968.

1977
burning love
re-release of the "burning love and hits from his movies volume 2"
album from 1972 with different cover. this issue was only available
as a limited "club edition". see also in the "1967 - 1975" section for
the original album.

65 896 3 club-edition / germany



1978
mahalo from elvis
acl-7064 / usa

very strange album released by the pickwick group in cooperation
with rca shortly after elvis ´dead.
side 1 contains the five extra tracks elvis recorded back in 1973 for
the aloha special. side 2 features various movie songs from the mid
1960´s. see also "cds-1190 - the king" (1979).
1978
he walks beside me;
favourite songs of faith and inspiration


this is a real beauty. a nice compilation including an unreleased
version of "the impossible dream" taken from the madison square
garden afternoon performance (june 1972)

us pop #113

us country #06

united kingdom #37

1978
elvis sings for children and grownups too
one more time a very curious album featuring various movie songs
with the exception of "old shep". as a bonus a "memories of elvis
greeting card" was included in this package.

cpl1-2901 / usa (fold out cover)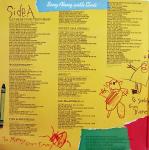 pl-12901 / germany (fold out cover)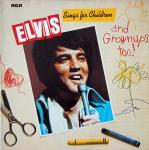 us pop #130

us country #05

canada country #01
1978
a canadian tribute

this album was released as a limited, numbered, gold vinyl edition as
well as the standard black vinyl version. although it is yet another
elvis compilation album, this one has the unique twist of elvis
performing songs written by canadian songwriters, as well as hits
from 1957, the year elvis toured canada. while the music on this
album can be found on previously released packages, the unique
canadian slant makes it a must for any collector.
us pop #86

us country #07

canada country #01

canada #01

1978
the 56´ sessions volume 1

this 2 volume set was planned long before elvis died unexpected in
august 1977. it was the first time that all of his 1956 recordings
appeared in one collection.

pl-42101 / uk




united kingdom #47

1978
the 56´sessions volume 2


pl-42102 / uk
pictures comming soon
united kindom #52

1978
elvis in the movies
compilaton of previously released movie songs only available via
"readers digest music service".

readers digest rds-9007 / uk



1979
20 fantastic golden hits

rare german club edition.

38607-8 / germany



1979
the king...elvis

european version of the u.s .album "mahalo from elvis" (1978) with
additional liner notes.

cds-1190 / uk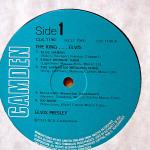 1979
easy come, easy go / kid galahad
in 1979 rca in germany re-released many of his 1960´s movie
soundtracks in their original form on lp. beside them were 3 lp´s
including movie soundtracks which were originally released as
extendend plays, and out of print at the time.


1979
jailhouse rock / tickle me

1979
love me tender / love in las vegas/follow that dream

pl-42793 / germany

1979
jailhouse rock / love me tender

nl-42819 / italy

1980
the legendary magic of elvis presley

mady by rca for candlelite music. only available in the u.s via mail

1980
elvis presley sings leiber & stoller


nice hommage to one of elvis´ greatest songwriters, jerry leiber
and mike stoller

united kingdom #32

1980
goldene serie international
the "goldene serie" albums were very popular in german speaking
countries in the late 1970´s until the mid 1980´s. this is the only
elvis album in this series.

32 323-8 / germany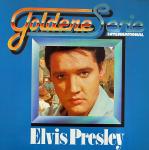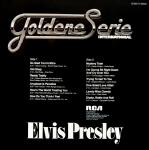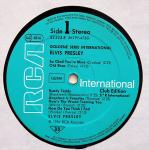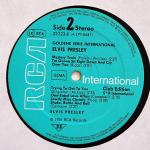 1981
elvis - greatest hits volume 1

originally rca-victor had scheduled the "greatest hits" collection to
come out in september 1977 (afl1-2347), but cancelled it after elvis
died unexpectedly on august 16. finally it was released in 1981, but
this album wasn´t the awaited success so a volume 2 never
appeared.
us pop #142

us country #47

1981
guitar man

re-recordings produced by felton jarvis. (elvis ´longtime friend and
record producer) felton died unexpected in january 1981, shortly
after finishing this project.
us pop #49

us country #06

united kingdom #33

australia #39

canada country #05

netherlands #28

1981
rock´n roll forever

made by "rca special products" for "candlelight music" offered as a
mail order bonus.


dml1-0437 / usa



1981
double dynamite volume 1
this (and the next) album is something like a "compilation from the
compilation. all tracks were previously available on various other
camden releases from the 1970´s.


cds-1182 / uk



1981
double dynamite volume 2

cds-1188 / uk

1981
please don´t stop loving me

in the early 1980´s many "new" budget compilations appeared.
most of them in the united kingdom on the rca-camden label.


1981
heartbreak hotel

a rca-camden budget compilation.

cds-1204 / uk

1981
return to sender

a rca-camden budget compilation.


1981
elvis presley

a rca-camden budget compilation.


1982
suspicious minds

a rca-camden budget compilation.

1982
are you lonesome tonight

a rca-camden budget compilation

1981
this is elvis (2lp set)

soundtrack from the 1981 documentary directed by andrew solt and
macolm leo, based on elvis ´live.

us pop #115

united kingdom #47

australia #84

1982
in love with elvis

very nice and successful compilation from germany.
pl-45321 / germany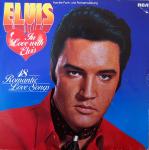 austria #07

germany #35

1982
romantic elvis - 20 love songs
compilation of love songs recorded in the 1960´s.
united kingdom #63

1982
elvis in germany

nice compilation of track which have a referance to germany. also
included is the complete content of the "elvis sails" extended play
from 1958. see "epa-5157" in the "ep-section.


1982
memories of christmas

cpl1-4395 / usa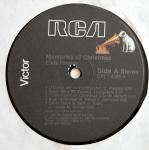 us country #48

united kingdom #80

1982
elvis presley 1956 -
how a legend was born

all tracks recorded in 1956 except "peace in the valley" recorded in
1957. this compilation was only available in italy.

1983
elvis sings inspirational favorites
mail order bonus lp from "reader´s digest" with the purchase of the
1983 edition of "elvis! his greatest hits".

(see in the "box set´s " chapter for more details)

reader´s digest / rca rd4a-181d / usa


1983
elvis country
made by "rca-special products" for "era" records. sold via tv mail
order.


1983
elvis, scotty and bill -
the first year
side 1 contains live recordings from march 1955 (eagles hall -
houston, texas) and an interview with elvis recorded in
st.petersburg, florida on august 7, 1956.

side 2 contains an interview with elvis´ lead guitarist scotty moore.

also included in this package is a booklet feauturing additional infos
and many pictures from this period.
please note:

this album was released by rca-records only in germany and in new
zealand. in all other countries including the u.s. this recordings have
been issued by severall other independent record companies.

1983
the complete bonus songs (2lp set)
though this songs were originally used by rca as album fillers for his
movie soundtracks the bonus songs were often the best tracks in the
albums. one of my favourite compilation album.
1983
i was the one
compilation of various recordings from the 1950´s.

take a look at the very unique rca label design.
us pop #183

us country #35

united kingdom #83

1983
the legend
a rca-camden budget compilation.

1983
the rock hits
though the tracklist here is very good compared to other camden
releases it´s unbelivable that elvis ´dead is dated "july 1977" in the
liner notes. a real shame when you think that this is a officially
release and not a cheap pirate product.
this is one of the last "camden - budget" releases.

1984
elvis sings the blues

a fantastic compilation with excellent liner notes. also the cover is a
real beauty.

1984
i can help & other great hits

nice compilation of elvis ´ 1970´s hits.
united kingdom #71

1984
the first ten years

this is maybe the last camden budget compilation.
it seems that "cds 1215" (pictured above) was released in late 1983
while this album hit the market in early 1984
1984
elvis sings world hits
though surely a good idea to release a compilation of elvis singing
songs mainly made popular by other artists, the cover design ruins
this project completely. in my opinion one of the worst covers made
by rca.

1984
the first live recordings

all tracks recorded at the lousiana hayride in 1954 and 1955.

pg-89387 / germany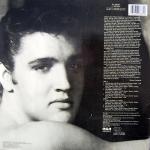 us pop #163

united kingdom #69

1984
rocker
good compilation of rock songs recorded in 1956 & 1957.

the backcover shot was taken by alfred wertheimer.
us pop #154
1985
greatest hits volume 1
good compilation of his early hits.

this album was first released in the u.k. in 1981.
pictures coming soon!
nl-89204 / germany
1985
greatest hits volume 2
contains hits recorded between 1960 - 1970.

this album was first released in the u.k. in 1981.
track b5 "crying in the chapel" is miscredited.

real songwriter is artie glenn
1985
elvis the pelvis (2lp set)

compilation from italy celebrating elvis´50th birthday containing
many of his 1950 ´s hits.

nl-89515 / italy

1985
reconsider baby
beautiful compilation with blues songs recorded between the 1950´s and early 1970´s pressed on blue vinyl. liner notes written by peter guralnick.
united kingdom #92

1985
always on my mind

another nice compilation of elvis´ 1970´s hits.

this time in beautiful white vinyl.

1986
return of the rocker

nice compilation of 1960´s rockers.

us pop #154