1975 -
click pictures to enlarge
1975
my boy / thinking about you

this one has a very interesting background story:

by the end of 1974 rca victor had released this single in severall
countries. in belgium, australia and the u.k. it had peaked at number
5, in ireland it made it to number 4 and in malaysia it even became a
number one hit. encouraged by the international success, rca finally
released the single in january 1975 in the u.s. too. on the pop charts
it became elvis ´3rd top twenty hit on a row. on the "adult
contemporary charts" it even made all the way to number 1.

pb-10191 / germany
srca-88816 / yugoslavia
gb-10489 / usa (1989 gold standard reissue)
us pop #20

us country #14
us ac #01

united kingdom #05

canada #27

australia #10

netherlands #09

ireland #04

new zealand #12
1975
my boy (stereo) / my boy (mono)

very rare usa promotional disc prduced for d.j´s and radio stations.

jh-10191 / usa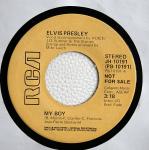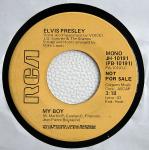 1975
t-r-o-u-b-l-e / mr. songman

a fine rocker which was recorded only one month before it´s release
in hollywood. "mr. songman" (a tune were elvis had a publishing
interest) was taken from the "promised land" album and recorded in
memphis in 1973.
us pop #35
us ac #--/42

us country #11

united kingdom #31

australia #43

1975
t-r-o-u-b-l-e (stereo) /
t-r-o-u-b-l-e (mono)

very rare usa promotional disc produced for d.j´s and radio stations.

jh-10278 / usa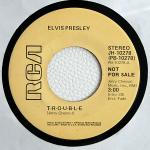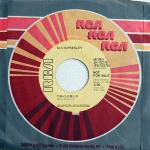 1975
bringin´it back / pieces of my life

this is the 2nd single culled from the "elvis today album".

two fine songs with haunting lyrics. sad that they didn´t get the
attention they deserved. in the uk this single was never released.
srak-88871 / yugoslavia
us pop #65

us country #--/33

1976
green green grass of home /
make the world go away

a very rare german single. "green, green grass" was taken from the
"elvis today" album while "make the world" was lifted from "elvis
country" (a 1970 release). in the u.k. "green, green grass" was paired
with "thinking about you" (from the "promised land" album) and
reached # 29 respectively. in the u.s. it was not released as a single.

ppbo-7028 / germany
united kingdom #29

1976
hurt / for the heart

recorded in february 1976 at the famous "jungle room" at graceland.

while "hurt " is full of pain, "for the heart" is one of elvis´ last
evocation of the kind of subtly swinging music with which he started
out his career.
us pop #28

us country #06/45
us ac #07

united kingdom #37

south africa #09

1976
moody blue /
she think´s i still care

recorded at graceland in 1976, "moody blue" became one of his last
big hits. it was written by composer mark james who wrote a few of
elvis ´ best songs during the last decade. (for example suspicious
minds, raised on rock a.o.)
us pop #31

us country #01
us ac #02

united kingdom #06

australia #17

belgium #04

france #04

netherlands #14

ireland #07

new zealand #05

norway #06

south africa #09

sweden #02
1977
way down / pledging my love

elvis ´last single release during his lifetime. both sides were
recorded at his finale graceland sessions in october 1976. as eclectic
at the end as he was at the beginning, he treats layng martine´s
"way down" to a touch of gospel and boogie-woogie. "pledging my
love" was a song of another memphian who died before his time.
johnny ace committed suicide on christmas eve 1954, and "pledging
my love" was his posthumous hit.

pb-10998 / usa

on the first 2 vinyl pics you can see the usa promotional issue.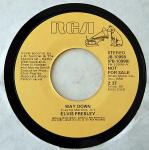 pb-0998 / uk
us pop #18

us country #01
us ac #14

united kingdom #01

australia #06

austria #19

belgium #16

france #06

germany #15

netherlands #09

ireland #01

new zealand #07

norway #10

south africa #13


1977
my way / america

first single released after elvis ´dead . both sides are live recordings
from 1977 and 1975 respectively.
us pop #22

us country #02

us ac #06

united kingdom #09

canada #14

australia #63

netherlands #24

ireland #06
1978
unchained melody /
softly as i leave you

"unchained melody" is not the version from the "moody blue" lp. it
was recorded in june 1977 during elvis ´finale tour and later heavily
overdubbed by felton jarvis. finally rca released the undubbed
version, in which elvis played the piano, at the "great performances"
lp (pl-82227) in 1990. "softly" is a soundboard recording from las
vegas (1975) feauturing the great sherill (shaun) nielson.
us pop #--/109

us country #06

united kingdom #02

australia #93/52


1978
teddy bear / puppet on a string

taken from the very strange "elvis sings for children and
grownups" album (pl-12901) . pictured here is the beautiful
canadion green vinyl issue.
us pop #105
us country #78
1980
are you lonesome tonight /
beyond the reef

rca- victor released the famous laughing version first on the u.s. box
set "elvis aaron presley" (cpl8-3699) in 1980. in germany were the
box set was not officially available, rca coupled this track with
"beyond the reef" for single release. though it was a major success,
this single was not released in the u.k. or in the u.s. finally in 1982
rca coupled "are you lonesome" with "from a jack to a king" for u.k.
release. it reached #25 in the u.k. respectively.

pb-9630 / germany
united kingdom #25
australia #41
belgium #19
germany #27
netherlands #15
ireland #16
norway #09
sweden #03


1980
moody blue / way down


1981
there goes my everything /
you´ll never walk alone

both tracks taken from the album "elvis´ greatest hits - volume 1"
us country #73
1981
guitar man / faded love

re-recordings produced by felton jarvis.

(elvis ´longtime friend an record producer)

felton died unexpected in 1981, shorlty after finishing this project.
pb-12158 / usa
us pop #18

us country #01

us ac #16

united kingdom #43

australia #73

germany #12
1981
lovin arms / you asked me to

second release from the "guitar man" album.

pb-2205 / germany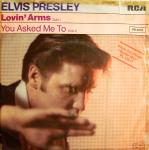 us country #08

united kingdom #47
1982
baby let´s play house / hound dog

released to promote the "colden celebration" box set. (see in the
"box sets" chapter). both tracks recorded live at the "mississippi -
alabama fair & dairy show" in september 1956.
1982
an american trilogy /
the impossible dream

one of the rarest elvis ´singles after 1977.

only available in tupelo on august 16th 1982
1983
i can help / the lady loves me

side 2 features an unreleased duet with ann magret from the movie

"viva las vegas". this single wasn´t released in the u.s.

pn-60115 / germany


united kingdom #30
1985
merry christmas baby /
santa claus is back in town

pb-14237 / usa

pictured here is the green vinyl u.s. promo issue.


1985
always on my mind / my boy

pb-1409 / usa
1985
the last farewell / it´s easy for you
pb-60202 / germany


1989
an american trilogy /
until it´s time for you to go

447-0685 / usa
very rare gold standard single. originally "american trilogy" was
paired with "the first time ever i saw your face" while "until it´s
time" was backed with "we can make the morning".

bot singles where originally released in 1972 and 1971 respectively.
1989
unchained melody /
are you sincere

gb-11988 / usa


2002
a little less conversation
(junkie xl remix)
following the song's use in the 2001 film ocean's eleven, "a little less conversation" was remixed by dutch musician tom holkenborg, better known as junkie xl (alternatively jxl). the electronic remix featured elvis with a lower voice, and added emphasis to the 1968 guitars, horns and a funk drum beat. holkenborg is the first artist outside the presley organization to receive authorization from the elvis presley estate to remix an elvis song (in the 1980s, elvis' longtime producer felton jarvis had overseen remixes of a number of elvis recordings that saw new backing added to elvis´ original vocals, the first of which were released as the album guitar man in 1981). the electronic version of the song became a number-one hit in the uk in 2002. the song also became a top ten hit in upwards of 17 other countries, reaching no. 1 in at least 10 of them.
pictures coming soon!
us pop #50

us ac #26

united kingdom #01

canada #01

australia #01

austria #03

belgium #03

denmark #01

france #15

germany #08

netherlands #01

reland #01

italy #03

norway #01

sweden #01


2003
rubberneckin´
(paul oakenfold remix)

in 2003 paul oakenfold remixed "rubberneckin'", and it was
released as a single and on the album "elv1s: 2nd to none". the
remixed song was used in a commercial by toyota to introduce their
solara model. it peaked at #3 on the australia singles top 50 and
stayed there for 1 week. it also hit the top 10 in denmark, finland,
ireland, and the united kingdom but only managed to hit #94 on the
billboard hot 100.

us pop #94

united kingdom #05
canada #02

australia #03

austria #23

germany #51